News and Real Estate Trends For Coconut Grove & Coral Gables Luxury Real Estate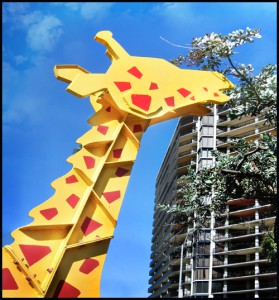 Presidents Weekend Coconut Grove Style Is All About Art
It's that wonderful time of year again–President's Day weekend, (not really) which signals us Grovites that it's time to settle in (especially if you live in or around the center of Coconut Grove) for our big 'bumper & shuffle' weekend.  If you're planning to attend this year's annual Coconut Grove Arts Festival "CGAF",  as I have for so many of the festival's 50 years of life (and most of mine, too),  it's a great idea to  plan your day in advance to get the most out of this wonderful event.  Prepare yourself for the 'bumper & shuffle' at peak times, when traffic is bumper-to-bumper with drivers searching for 'not so cheap nor easy to find' parking in and around the Grove. The influx of festival-goers, coupled with road closures to accommodate the mile-long stretch of artists' booths, means you might spend a chunk of time in the car, so be sure to bring along one of your favorite playlists of calming tunes.
Art Purchase For $15, Really?
Once you secure parking, you'll warm up quickly in preparation to do the 'shuffle' by navigating your way to the ticket lines which are at 4 of the festival's entrances, the main one located on McFarland Road with Grand Avenue at your back.  For only $10 per person per day ($5 for Grove residents–if you can prove it), you'll be on way to experience art at its best.  You may want to make your first stop at the first booth to catch a glimpse (and perhaps make an art purchase) of this year's annual CGAF poster.  The finalist for best design is famed local pop artist, Romero Britto, in honor of the festival's 50th year.  This is quite the art deal considering this colorful abstract poster (unframed and unmated) can be yours for a mere $15!  I, myself, have bought many CGAF  posters over the years which have, sooner or later, transitioned into costly framed, matted, faded, dated and later donated art.  And this year won't be any different since I'm sure to follow the same drill–by entering on McFarland for an up-close poster peek of Brito's winning design, at which time I will contemplate buying this year's finalist.  It just may be best idea as the perfect gift for my mother's 80th birthday which will be celebrated, coincidently, over President's weekend.
Practical Tips To For Shuffling Through
By now, it's time to prepare yourself to "shuffle"!  If you want to be comfortable and enjoy this wonderful event, may I suggest you wear sunscreen, sneakers (NO socks above the ankles, please people), a cap or visor, sunglasses, a t-shirt or tank and shorts?  Leave the pets at home (enforced festival rules don't allow pets now way, no how) and consider giving your strollers the day off, too, for optimal mobility and pleasure–being mindful that you will likely be at the festival during the peek–which means you will be shuffling.  If you keep in mind that the crowds really pick up around noon, arriving when the gates open at 10 o'clock may make your experience more pleasant as you go through without stepping on everyone's toes (or them yours) and may  keep your from rubbing up against someone else's sweat beads.
Now I caution you about the aromas, however, there's no reason to be hungry–there's plenty of food, whatever your palate or diet. There's even a culinary pavilion featuring demonstrations by world-renowned chefs. There are tons of drink options, too–I'll be opting for my personal favorite, frozen lemonade–a festival must!
So, why not come out and support this great, annual event (proceeds benefit, amongst other things, young art talent) and remember the early bird benefits most from smaller crowds and tad cooler temps.  With over 360 international vendors, the art selection is 'OMG' fantastic!  Whether just starting to collect or looking for a new piece to add to a collection, or perhaps the perfect gift for a loved one's 80th birthday, there's something for everyone's artistic passion.
As an all-encompassing holiday weekend Coconut Grove style, this event is an absolute "must do" with a guarantee of  having a great time while coming together as a community and shuffling alongside interesting people, looking at fabulous art, eating delicious food and sipping cool drinks.  And, imagine all of this comes with fantastic weather in our magical City–Miami!  Oh, and don't forget about those great Presidents who made this weekend possible.  Make sure you take time out to say "thank you".
There is great information about the Coconut Grove Arts Festival.