News and Real Estate Trends For Coconut Grove & Coral Gables Luxury Real Estate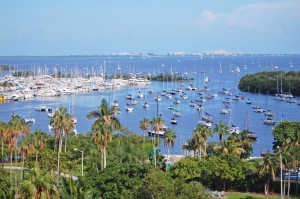 For the 57th year, Biscayne Bay will be host to the Columbus Day Regatta, the annual holiday weekend boat race. With nearly 300 contestants taking to the water in hopes of a trophy, it's quite a spectacle. While the rest of the country is gearing up for October's chill, the mid-80˚ temperatures and sunshine here in Miami promise a few more days of summer. Throw on some SPF and head down to the Biscayne area with the whole family to enjoy the free show.
With sailing in mind, if you're looking for a quiet day on the boat, than steer clear of Elliot Key this holiday weekend. Columbus Day is always primetime for partiers—think of a block party, but on the water. If you do brave the crowds, remember the old adage: safety first! Be sure to have a designated driver and a well-stocked boat: that means food, water and safety gear. Enjoy the holiday!